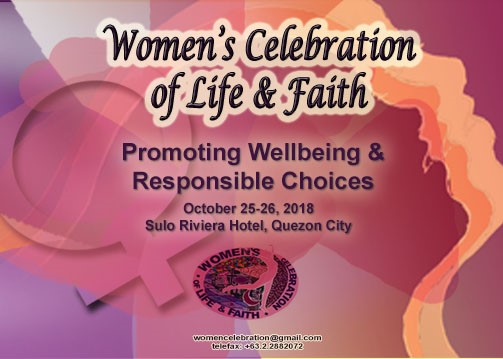 Women's Celebration 2018:
Believing in Our Faith, in Ourselves to Transform Humanity as We Promote Wellbeing & Responsible Choices
Women's Celebration Conference is a platform for conversation, understanding, and solidarity among women of faith from different backgrounds. Our socio-economic, political, and even religious affiliations may differ but we come together every two years to celebrate our unity and bonding as women believers of the divine. In challenging times, women kept their faith and hope alive and do what is best for themselves and for others.
Women's Celebration 2018 is an affirmation of our beliefs in women and our sacred role in society with the theme "Believe in Our Faith, in Ourselves to Transform Humanity." About 300 hundred women from various faith communities are expected to gather to proclaim the following truths:
We believe in the power of our lived experiences of struggles and triumphs as a wellspring of wisdom to guide us through our life's journey.




We believe in the transformative potentials of empowered & discerning women who make responsible choices for themselves and for their families.




We believe in the solidarity and sisterhood, a community of supportive women who provide strength when needed.




We believe in love and hope that inspire and nourish our dreams of a dignified and fulfilling life for all.